A Collection of Meaninglessness: A Creative Writing Word-shop by Nabilah Said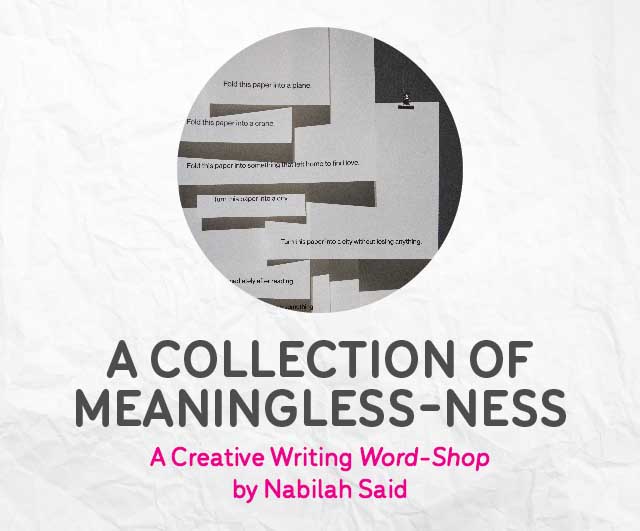 A Collection of Meaninglessness: A Creative Writing Word-shop by Nabilah Said
What makes something meaningless and how do we understand "meaning" in our lives? In this workshop by artist and writer Nabilah Said, participants will create a collective response to their very own "meaningless" paper item. Participants are asked to bring something made of paper that is meaningless to them.
A Collection of Meaningless-ness: A Creative Writing Word-Shop by Nabilah Said is part of the programming for the exhibition, Superfluous Things: Paper.
In this workshop, participants will:
• Explore the functionality, materiality and abstract concepts related to paper
• Work collaboratively on a piece of textual or creative response to the idea of meaningless paper
• Learn and develop a greater sense of empathy for the stories of others
You may also be interested our other upcoming workshop by Nabilah Said – A "Meaningful" Writing Class: A Creative Writing Word-Shop.
About the artist
Nabilah Said is a Singapore-based playwright, editor and poet. Her play ANGKAT: A Definitive, Alternative, Reclaimed Narrative of a Native (2019) won Best Original Script at the 2020 Life Theatre Awards, and Inside Voices (2019) won the Outstanding New Work award at London's VAULT Festival. She has worked with Teater Ekamatra, The Necessary Stage and T>:Works. She featured an essay in the exhibition Bad Imitation (2022) and co-created the audiovisual trail Lost & Found: Serangoon (2021). A former Straits Times arts correspondent, Nabilah is currently the editor of the regional arts publication, ArtsEquator. She also teaches writing across various age groups.
Please note:
Following tools and materials will be provided
Participants can also choose to work on their personal laptops/devices.
A minimum number of participants is required to start this workshop.
Suitable for ages 15 and up